Back in 1968, Concord High School coach Bill Luti helped organize what was to become one of the oldest footraces in New England - the "Concord 5-Miler." In recognition of his many contributions to the sport of running - and to the many lives he has touched - the race was named in his honor in 1984.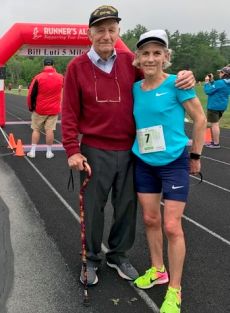 Memorial Field, 70 South Fruit St.
Concord, New Hampshire
Saturday, July 15, 2023, 8 AM will be the start of the 56th Bill Luti 5-Miler from Memorial Field in Concord. Coach Luti, who passed away in December of 2019 at the age of 98 was passionate about coaching youth and lifetime fitness. The race will be the 6th in the 2023 Northeast Delta Dental Capital Area Race Series. The Bill Luti 5-Miler is a genuine classic featuring a certified loop course that passes through the scenic St. Paul's School campus.  Don't miss being a part of one of the oldest races in New England!
You may register online through 9 AM, Thursday, July 13 for only $25 (plus a processing fee). Note that only online entries received by July 5 are guaranteed a t-shirt and preferred shirt size.  We may have a few extra shirts but do not guarantee these and sizes will be random after the 5th.  Note that you must pick up your shirt at Friday registration at Runner's Alley in Concord or at the race by start time.  We don't hold shirts after the race starts.  Late registration after 9 AM, Thursday July 13, whether at Runner's Alley on Friday or on site at Memorial Field Saturday will be $30 cash or check.  Early bib and shirt pickup will be at the Concord Runner's Alley store between 2:00 and 6:00 Friday afternoon, July 14.  Race morning packet pickup will be from 6:30 to 7:45.  The start is nearly a half mile walk from registration so plan accordingly.
Our race t-shirt will be designed by StitchesNH owner Jay Smith who ran for Coach Luti in 1974 and 1975.  The shirt will be available in sizes X-small through 2X-large.  
Former male and female race winners receive free lifetime entry to the race. Please contact Bob Teschek directly at bob [at] gsrs [dot] com (bob[at]gsrs[dot]com) for the pass code to enter free online.
USATF Certified NH17005BK 5 Mile.
Start on Clinton St. where the first mile is mostly flat. Mile 2 includes a 6/10 mile hill (Clinton St. then right onto Silk Farm Road). Mile 3 is mostly flat with some downgrades near the end (Silk Farm to Dunbarton Road).  Mile 4 climbs gradually to Pleasant Street as the course turns east on Pleasant. Mile 5 soon takes a right into the Pleasant View Retirement Community grounds, passing in front of the main building and continuing down Reddington Road all the way to Fruit St. Then right on Fruit and right into Memorial Field. Finish will be on the track. See course map below which will expand to a large pdf file.
Fun Run Course: We will have 400 M and 800 M (1 & 2 Laps on track) races for ages 9 & under and 10-12 starting at 9:30 AM. Emphasis is always on finishing and having fun.  There is no entry fee for the fun runs, but please sign up at the registration tables between 8:00 and 9:00.